10 Reasons Why You Should Live In Daphne
When Alesandro Mastro Valero bought a large chunk of land in Daphne, he did so to create a pastoral alternative for Italian immigrants in 1888. The 'Malbis' area was also established. Although the city had been around under a few names prior to the Civil War, the city became who they are today through the immigrants that made it their home. Not long after that, they built a catholic church in what is now Old Daphne. The Queen of Italy, Margherita of Savoy, sent a gift in 1898 of rich vestments that are still on display in the present Christ the King Catholic Church. Today, this founding is celebrated with the church event "Festa Italiana," an event featuring authentic Italian cuisine. Through its rich history, Daphne is a great area to raise a family or even retire to! This list consists of reasons why you should consider living here today!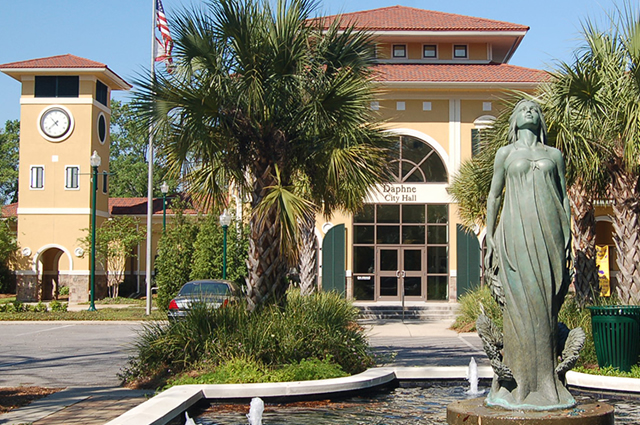 Related Article: Why You Should Call Olde Towne Daphne "Home!"
The Jubilee City. One of the few places in the world to experience this phenomenon, this is an event that is hard to believe, but a blast to experience. On some summer nights, when the bay waters are just right and the wind blows easterly, the oxygen levels bottom out in parts of the bay. Because of this, crabs, flounder, catfish, and other fish drift onto shore and are there for the taking by those who are lucky enough to be there first. With gaffs and ice chests, residents easily scoop them up from the shores to make tasty seafood dinners later.
Diversity in beautiful homes. There are a few different areas in Daphne to consider, these include: Olde Towne Daphne, the City Center, the Belforest area, the Malbis area, the Park City area, and Route 90. Historic homes as well as brand-new developments are available across the board. The median home price is $174,000, slightly under the national average. Check out listings of Daphne AL homes, and/or search all homes currently available in Daphne today.
Enjoy 13 Parks in the area! Many parks overlook Mobile Bay and even have beach-fronts. In 2016 Daphne opened the first 9 holes of Daphne Central Park Disc Golf Course, then in 2017 opened the full 18 (28 Lake Shore Dr, Daphne, AL 36526) - a very fun attraction for the whole family! Kayaking, canoeing and other boating is available at many city parks. Gator Alley D'Olive Boardwalk is famous for its alligator sightings and education programs. Enjoy these lands to exercise or just see the scenery!

Local restaurants - views of Mobile Bay, and Olde Towne charm. Places like Boudreaux's Cajun Grill (offering not only delectable cajun cousine), and the Lake Forest Yacht Club are both located just off off the shores of Daphne, near where Interstate-10 meets the shores of the Mobile Bay, showcasing fantastic unbeatable sunset views over the skyline of Mobile!


Also, foodies will love the variety and delectable menus of Sugar Kettle Cafe, Papa's Place and the brand-new Southwood Kitchen, all local favorites, in Daphne. For both charm and great taste, Olde Towne Daphne offers restaurants like Guido's, Cousin Vinney's, The Pigeon Hole, Le Bonchon, Manci's Antique Bar, and Buster's Brick Oven, plus bars that are walk-able to local homes and Bayfront parks, as well as boutique shops. Make sure to try local restaurant seafood selections of shrimp, crab, and fish, as they usually are the freshest you can get.
Lots of Schools! With two elementary schools, a middle, and high school, you won't have to travel far to get the kids to school. There are also two more options for schools: Christ the King (PreK-8th) and the Baldwin County Virtual School.

Growing Population, Growing Jobs. According to the latest census reports between 2015-2016, the city added over 1,000 residents. This brought it up to a 4.13% growth rate, the highest in the entire state. Meanwhile, job growth is continuing to rise with population at around 3%.
Proximity to Mobile and the Beach. Many large companies, like Austal and Airbus complex in Mobile, offer thousands of jobs to those in the area. With approximately 20-minute commute, many have jobs in the city but live in the comfort and scenery of the eastern shore. Likewise, a trip to the beach is only an hour away!
Quickfacts. (Facts sourced from AreaVibes.com, which analyzes US Census, economic, and EPA data)

The overall crime rate in Daphne is 22% lower than the national average.
Alabama general sales tax is 21% lower than the national average.
Alabama state income tax is 10% lower than the national average.
The average school test scores in Daphne are 3% higher than the national average.
The median household income in Daphne is 16% higher than the national average.
The air quality index in Daphne is 31% better than the national average.

Entertainment Options. Daphne offers many festivals and events throughout the year. Local families also frequent the Hot Wheels skating center, and AMC Jubilee Square 12 movie theater. A very family-friendly Mardi Gras season rolls for several weeks through the village and quaint neighborhoods of Olde Towne Daphne, in February - you can check the Daphne Mardi Gras schedule here. Also, there's the annual Jubilee Festival of Art of art, Daphne Seeds 5K and other annual events.
Explore the Senior Center and Library! Programs for seniors include various forms of yoga, scrabble, and birthday parties. They also offer a nutrition program to help seniors stay healthy. The library has over 67,000 items and a meeting space. It has everything from children's books to an extensive nonfiction collection.
Searching for a home in Daphne? Don't wait, get started today:
For more info, if you have any real estate questions, call us today:
Michelle Beckham (251) 709-4558
Angelina Needham (251) 979-2108
Jennifer Doyle (251) 404-3228
Julie Carney (251) 802-4663
Mike Hamm (251) 214-8237
Bellator Real Estate