Make the Move to Daphne, Alabama - discover all the 'Jubilee City' has to offer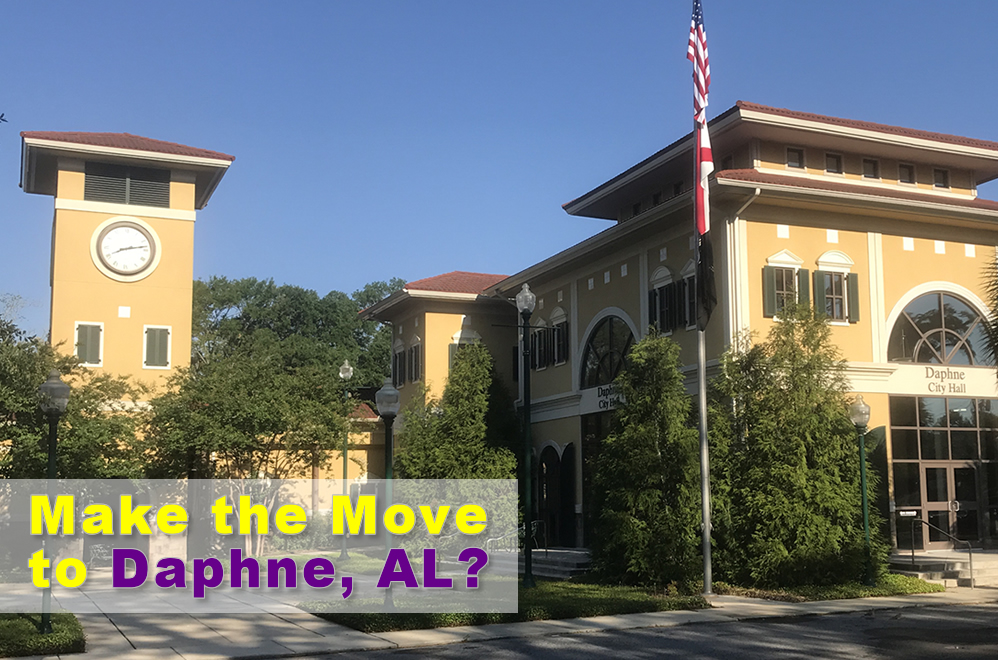 Homes for sale in Daphne, are in high demand and with good reason. The mixture of small-town charm, big city amenities, family-friendly events, and a wide varie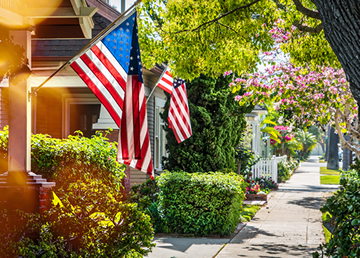 ty of schools to choose from all make the coastal Alabama city a hot spot for home buying. Find out what makes Daphne real estate ideal for young families, professionals and retirees.
Mix together a heaping helping of southern hospitality, great list of parades and festivals, plus a spirited football game under Friday night lights and you've got a melting pot of hometown goodness. This perfect mix is only found in Daphne, Alabama.
Family Life in Daphne, Alabama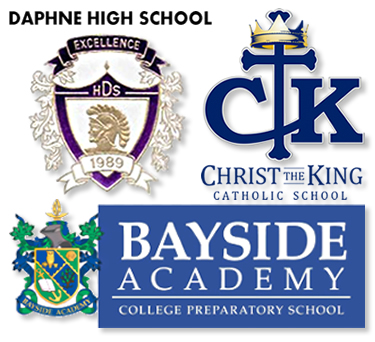 Families have options for education. Daphne, AL boasts both public schools and private schools. Its public schools are in the Baldwin County school system and accommodate grades K-4 through 12th with a host of programs and opportunities for students. In fact, Daphne High School is one of two schools in the county that offers the International Baccalaureate program for high-achieving students. To see how Daphne schools compare to others in the state, visit the Great Schools website. Daphne private schools include Christ the King Catholic School for kindergarten through 8th grade and Bayside Academy for pre-kindergarten through 12th grade. Reviews and ratings of Bayside Academy are also available on the Great Schools website.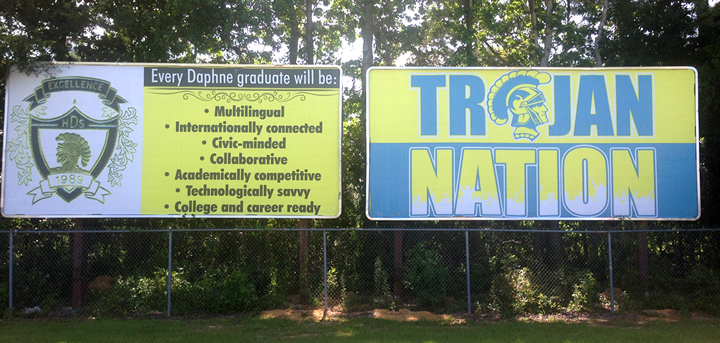 Daphne Offers Six Great Parks for Recreation
While checking out local schools, you'll also be glad to hear there are plenty of family-friendly activities and events. The city's parks and recreation department offers recreational league sports for kids interested in baseball, basketball, football and soccer. The City of Daphne offers 13 parks and athletic sports fields for the community to enjoy.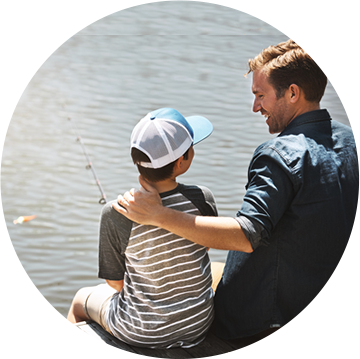 Do you love natural settings, waterfront views, and the great outdoors? Want to teach your children to appreciate nature (even though you live in the city)? Grab a pole and some bait, head to the water and take them fishing! You can take the kids fishing or drop a crab trap in Mobile Bay at either Daphne's Bayfront Park (which has bayfront pier & sandy beach, boardwalk, and nature trails), May Day Park (which has beach, pier, boardwalk, kayak & canoe access, as well as a full boat launch), McMillian Bluff (which has an overlook deck and sandy beach), or Belrose Park (which has walking access to Mobile Bay, a picnic area, and sandy beach). While you're there, teach the kids how to throw a cast net, too!
There are plenty of family-friendly events held throughout the year including movie nights in the park, Easter egg hunts, Art in the Park and Wet 'N Wild Wednesdays (a day with waterslides at Lott Park). In addition, the annual Jubilee Festival held every fall offers a fun day of arts and crafts, festival food and live entertainment. Of course, we can't forget Mardi Gras! Watch Apollo's Mystic Ladies, Knights of Ecor Rouge and the Shadow Barons, (view full Daphne Mardi Gras schedule), roll down the streets of downtown Daphne every Mardi Gras season. These much-anticipated parades delight the young and the young at heart.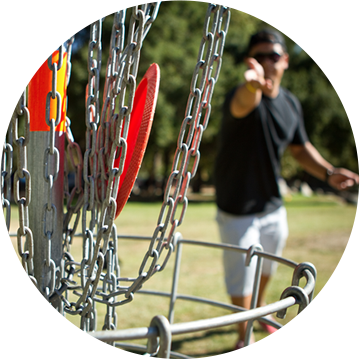 Daphne Central Park Disc Golf Course
Calling all disc golf enthusiasts, Lake Forest subdivision in Daphne converted their old 11-acre golf course into a 18-hole disc golf course that was voted top three for the sport in South Alabama! The course features not only cement tees, plenty of hills, and views of the city of Daphne and Mobile Bay, but also what was once an old golf cart path has been transformed by adding a sidewalk, into a long and scenic bike and walking path!
Daphne, Alabama Executive Homes
With its location just a short drive from downtown Mobile, professionals find Daphne an ideal place to live. Industry and professional career opportunities on both sides of Mobile Bay means the job market offers plenty of possibilities. Many Daphne homes for sale are located within 10 minutes of an Interstate 10 exit, making the commute to work easy.
Retire in Daphne
Once you move here, you may not want to leave. Start a family in Daphne, work in Daphne and retire in Daphne. The city's access to Mobile Bay makes it a prime location for retirees who enjoy spending time on the water. Daphne homes for sale in the Montrose area or Old Towne Daphne are the nearest waterfront and water-access homes available. Choose between chic bay front cottages, grand southern homes with wrap-around porches as well as more affordable and traditional ranch-style homes, all in close proximity
Spend your mornings walking the beach, fishing, kayaking or try something new and exhilarating like sailing or power-boating! Don't forget to check out the trails at Historic Village Point Preserve, located adjacent to Bayfront Park. The trails are listed on the Alabama Coastal Birding Trail, so be sure to bring binoculars. History lovers will enjoy stepping back into time at Jackson's Oak, hidden away in the preserve. This giant tree measures 95 feet tall and has a circumference of 28 feet! Its limbs spread 125 feet. According to historical records, General Andrew Jackson rallied his troops from one of the tree's massive limbs during the War of 1812.
Relocate to Daphne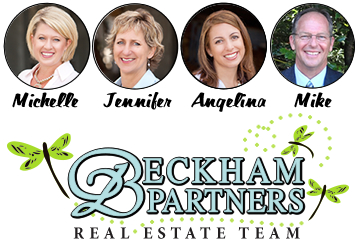 Find your next Daphne home with the help of the Broker, Michelle Beckham, The Beckham Partners Team, Bellator Real Estate: (251) 709-4558. Beckham Partners has been Bellator Real Estate's #1 Top Home Sales Producer for more than 11 years! They have their hands on the pulse of the Mobile & Baldwin County real estate markets and can help you find either the perfect starter home for your young family, or the ideal executive home or even beachfront/Bayfront retirement home you've always dreamed of!
For more information on living in Daphne, read our blog "Small Town Charm in Daphne, Alabama."
Searching for a home in Daphne? Don't wait, get started today:
For more info, if you have any real estate questions, call us today:
• Michelle Beckham (251) 709-4558
• Angelina Needham (251) 979-2108
• Jennifer Doyle (251) 404-3228
• Mike Hamm (251) 214-8237